Testimonials
What our clients say, don't just take our word for it!
Below are a selection of recent reviews from our clients, we always strive to deliver excellent results and go the extra mile to make sure our clients are delighted.
If you would like to speak to any of our clients, please let us know and we will provide references.
If you would like to provide a testimonial, please email info@total-seo.co.uk.
★ ★ ★ ★ (16th January 2018)
Keith Giblin – Very Pleasant and helpful staff
"Very Pleasant and helpful staff, have made a great difference to our presence on the web, would not hesitate to recommend SEO to anyone.
Many Thanks Keith"
★ ★ ★ ★ (3rd January 2018)
Riko UK – Total SEO Delivers
"Introduced by Matt McDermott when he joined Total SEO. Explained everything TOTAL SEO would do and how they would achieve it and how they would keep me up to date. They have delivered everything they said they would. What more could you ask for."
★ ★ ★ ★ (18th December 2017)
Ian – Entertainer
"I was recommended Total SEO by one of my agents who have been dealing with them. I would not have tried them if that hadn't been the case as I had been burnt by other companies in the past. I was immediately struck at the detail that Total SEO went into at looking at my website. You get a very thorough report each month which you can go through with your appointed SEO professional. My contact is Tom with whom I always seem to get hold of if I have a question, which in this day and age of being put on hold or going through endless channels to speak to anyone, is great. In the past with other companies, the SEO may have been performed by someone overseas with whom I had no contact or follow up. Tom never rushes his explanations and listens to what I wish to obtain with regard to results. I have only been with Total SEO for 3 months but already there are very positive changes in all the aspects of SEO on my website and I can see these in the monthly reports, so I look forward to even better results in the future. I therefore recommend Total SEO."
★ ★ ★ ★ ★ (15th December 2017)
Michael Wood – Great Service
"Emma has been very helpful setting up SEO for my business. With great attention to detail Emma sorted out various issues with Google Adwords. Always helpful, professional and friendly would recommend Emma and Total SEO if you need SEO for your business."
★ ★ ★ ★ ★ (15th December 2017)
Chris Wedge – Brilliant So Far
"We have only been using using Total SEO for a couple of weeks and have so far been very pleased with the attention to detail that they pay. We have noticed small results already, however we expect over time as with all things for them to increase. Emma and Natasha are pleasure to work with, both of them email very frequently with reviews, written articles and other useful information.
We plan to stay on with Total SEO as their level of service is very satisfying and on a personal level.
Thank you,
Chris & Harry
Legendary Art"
★ ★ ★ ★ ★ (15th December 2017)
Wendy Stock – I would like to thank the team at Total …
"I would like to thank the team at Total SEO for all their friendly help and support.
Abigail has been simply amazing with lots of help and advice and nothing was too much trouble for her.
I would recommend Total SEO to anyone looking to grow their business, thank you!"
★ ★ ★ ★ ★ (12th December 2017)
Robin Willis – Very Impressive
"Very Impressive. My own ignorance of SEOs and how they work led me to feel concerned about going down the route of marketing my online boutique. I needn't have worried. My main contact, Abi, has patiently explained to me the direction of how they market, and the improvement of our standing on Google search. Reports are delivered regularly and promptly by email followed by a call from Abi to go through and explaining the results. For someone like me who has to concentrate mainly on running the retail shop outlet — it's a relief to feel that someone is expertly looking after my back on marketing the shop online. It's early days but I'm very impressed so far."
★ ★ ★ ★ ★ (8th December 2017)
Robert Jones – Highly Efficient…
"Highly efficient, friendly and knowledgeable staff, very competitive pricing and above all they get results, what more do you want."
★ ★ ★ ★ ★ (8th December 2017)
Emile Ward – Great Company with an excellent eye…
"Great company with an excellent eye on service and responding to all your questions regarding SEO. The team are always professional and deliver results on time and as planned."
★ ★ ★ ★ ★ (7th December 2017)
STS Cars Manchester – Great Team
"Great team, great company and always available to discuss strategies with. Lots of Thanks to Matt McDermott, He is awesome. "
★ ★ ★ ★ ★ (5th December 2017)
Bradley – Very professional
"Very professional, Matt has done well even though he has had to chase me a lot to get the work done. They do both PPC and organic SEO for my website."
★ ★ ★ ★ ★ (5th December 2017)
Nadia – Great company especially with all the write ups…
"Great company especially with all the write ups for our company for our website and the social media links for our account. They are very professional with what they do always ask if everything is ok. A big thank you to all the team."
★ ★ ★ ★ ★ (2nd December 2017)
Sam
"Great team! very honest, hard working, consistent and realistic. So many SEO agencies and consultants who will tell you everything you want to hear and then deliver nothing. These guys have simple but effective methods and approaches to start moving things forward. There's no secret to SEO but simply being patience, staying on top of everything and be consistent with content and managing the technical elements of the store which is exactly what Total SEO do"
★ ★ ★ ★ ★ (1st December 2017)
Guy Laurie – Enigma Tours in Berlin
"Have been with SEO for over 6 months now, during which period I have seen my rankings improve enormously. So far, this has not led to an enormous increase in business, but I attribute this more to other extraneous factors beyond their control. I have found the entire team to be unstintingly polite, friendly and supremely helpful. And this applies to every person I have had dealings with. For me, the most impressive aspect is the promptness with which they respond to queries as well as the regular feedback I receive on a monthly basis. The person with whom I have had the most contact has been Jemma Bradbury. Her attention to detail, punctuality and suggestions have all helped to create a feeling of confidence in the entire team."
★ ★ ★ ★ ★ (1st December 2017)
brig – Really good experience
"Really good experience, and Tom my account manager was excellent!"
★ ★ ★ ★ ★ (29th November 2017)
Andy Noon – A great friendly and knowledgeable team…
"A great friendly and knowledgeable team that worked hard and reacted fast to any questions. Thank you for all the work you have done for us to improve our SEO"
★ ★ ★ ★ ★ (29th November 2017)
Woking Print – Excellent Company!
"Total SEO have looked after our SEO for a long time and over that period I have seen our web based enquiries grow substantially. Whenever we review our marketing budget we always ring fence the budget with Total SEO because we definitely value their expert service to us. On top of that they are also nice people and really easy to work with."
★ ★ ★ ★ ★ (14th November 2017)
Silverbrooks – Excellent Customer Service
"Working with SEO has given us a great insight to the work that needs to be done in regards to SEO. Our account manager has been very helpful and knowledgable, and the work done has really improved our SEO ranking. I would not hesitate to recommend their services if you want to have your page rank on google."
★ ★ ★ ★ ★ (8th November 2017)
Mark Allchin – Mark Allchin Bromley Stained Glass
"Mark Allchin Bromley Stained Glass. We have been using Total SEO for the past year now and have been very pleased with the results .Website rankings have improved considerably so creating far more inquiries for our services .Our appointed account manager Tom Lilley has been very helpful in taking time to help with this process and has always explained and helped us with Total Seo services giving us complete piece of mind in this industry.Would recommend Total SEO and look forward to working with them .Mark."
★ ★ ★ ★ ★ (2nd November 2017)
Lesleytal – Superb Service
"Have only been working with Total SEO. for a few months and have been very impressed with communication and the way they are dealing with our Website and giving a better understanding of something that is very complex to us – Thankyou"
★ ★ ★ ★ ★ (2nd November 2017)
Lucy – Total SEO have managed both our …
"Total SEO have managed both our websites and helped to improve our rankings. Very efficient and great customer service from the SEO team."
★ ★ ★ ★ ★ (1st November 2017)
John Pierce – Great Experience!
"Having only been working with Total SEO for a few months we have had a very positive experience with both the SEO and Adwords sides of the business. We can see definite improvement in the visibilty and traffic to our site and will contiue to develop these elements with the company..
Tom and the team are very knowledgeable, responsive and helpful and are committed to working in partnership to obtain the best results possible. The customer service is excellent – very impressed."
★ ★ ★ ★ ★ (25th October 2017)
Fashion Trendz – Very Happy Customers
"I feel it's time I wrote a review about total seo because I've been using their services for a few weeks now and I can see the work they're doing and the improvements to my site. Everything they do is professional and of a high standard. Claire(my account manager) is fantastic and always helpful and explains the reports I receive very clearly so I fully understand every aspect of it. These guys are always friendly and approachable. Will brown writes articles for us and they are extremely well written and professional. I'm sticking with total seo because I believe in them and believe they'll get our website to where we want it to be. I also know they're cheaper for seo work than many other companies, but with Total seo you get a 1st class service for a 2nd class price. I also have to give a mention to Simon Chapple (the managing director) because he took a lot of time initially to discuss our companies needs to find the best fit for us and what we wanted to achieve. A1 staff and A1 service. Gary & Gemma. Fashion Trendz"
★ ★ ★ ★ ★ (24th October 2017)
Alexabeauty – Fantastic, friendly and Helpful
"Total SEO have been fantastic for my business. The team are so friendly and helpful and I would recommend them to anyone who is hoping to grow their business.
Value For Money"
★ ★ ★ ★ ★ (20th October 2017)
HMP Direct – Excellent Customer Service
"Excellent customer service, Top shouts go out to Tom Lilley for working extremely hard with our site and going the extra mile to help us on ad words!. Also shout out to Hannah Jackson who has wrote some amazing articles for our site. We appreciate the work you guys do. We are still at early doors and hope to see us pushing through the google rankings as we continue working with your team."
★ ★ ★ ★ ★ (20th October 2017)
Silicy Living Ltd – Total Brilliance
"Simply the best in their field. Dedicated script writers, who take the time to understand your business before writing articles, and account managers who really take an active interest in getting results. Total SEO keep you fully updated and involved to the right level throughout. We went from nowhere to page 2 on most of our descriptors within 2 months, and number one on many of them! SEO is an essential part of any website, and Total SEO really know their onions. The company has the feeling of being a small and dedicated one, but the power of a really big one. 5 stars, 10/10 – however you rate them, I don't think they can be beaten on results."
★ ★ ★ ★ ★ (20th October 2017)
Rachel – We Are Chippa – Excellent Service
"Excellent Service! Claire is really helpful and always keeps me well informed on how my company is doing! The team at Total SEO have been great to work with and look after my social media, blogs and SEO. Would highly recommend!"
★ ★ ★ ★ ★ (12th October 2017)
MNT Training – Long Term Partnership
"We have worked with Total SEO for a number of years now and they have been very proactive in working with us to improve our google rankings. They have been very accommodating with our requests to have reports produced in a format which suits our business rather than receiving them in the standard way they produce them and we have had some excellent results with a number of our keywords."
★ ★ ★ ★ ★ (6th October 2017)
Benni Carol Photography – Great Experience
"We have been working with TotalSEO for a couple of years now and we have always found it extremely helpful. All the people that work there are very competent and always happy to help. We have had Emma Rostron as our account manager and we could not be happier with her work. Will Brown as editor for our articles has been amazing too! We will start campaigning with theme again soon!
Strongly recommended."
★ ★ ★ ★ ★ (2nd October 2017)
Etsuko – Thank you for your patience to have worked with a non-digital person…
"Generally speaking, IT personnel tend to use jargons and so called positive critiques, pointing out what is wrong with your website. Instead, Total SEO listened what I wanted to achieve from their service and they delivered effectively.
Simon and his team explained in a way that I could understand and they found solutions for me. If you think you are a non-digital person, but wishing to create more access to your website, Total SEO is just for you, highly recommended."
★ ★ ★ ★ ★ (2nd October 2017)
Resin Fix – Excellent trustworthy company…
"Excellent trustworthy company, unlike many I have experienced. Gradual progressive work on my SEO by Total has certainly raised my websites natural rankings, nothing is too much trouble."
★ ★ ★ ★ ★ (29th September 2017)
Frimley Cabs – A real personable experience from the…
"A real personable experience from the start. From initial analysis, plan of action & execution, the guys have been brilliant. I would definitely be recommending Total SEO to business partners & friends.
Keep up the good work…. Naz"
★ ★ ★ ★ ★ (27th September 2017)
Jo – Great company that gets results…
"Great company that gets results (in my experience in Adwords rather than SEO but I wouldn't hesitate in recommending them for both). Solid client/customer service both from management and team members. Tom Lilley in particular has been – and continues to be a highly effective account manager."
★ ★ ★ ★ ★ (27th September 2017)
Balnapolaig Steading – Excellent service and always prompt…
"Excellent service and always prompt replies to emails and return phone calls."
★ ★ ★ ★ ★ (25th September 2017)
Sue Allen – I have no hesitation in recommending…
"I have no hesitation in recommending Total SEO Marketing in Aldershot the customer service is brilliant and our Ranking report show that our campaign is working 🙂
Sue Allen – Gregory-Martin International Limited"
★ ★ ★ ★ ★ (24th September 2017)
Drain 247 GROUP – The Best SEO Company Around…
"We had some issues. However, after raising our issues with the office, we were contacted by the Managing Director who sorted them out on the spot. The staff are always polite and courteous and what impressed us is that the Managing Director took the time needed to address our concerns and resolve it. Despite a rocky start to our relationship, they proved to us in the end that he, the Company and their staff really care about their customers and strive to offer the best SEO and customer service."
★ ★ ★ ★ ★ (19th September 2017)
Andy McKay – So far so good!…
"So far, so good! Being completely new to SEO and PPC, Matt has patiently held my hand throughout. Still early days with the campaign but all has been well, with regular communication and updates. Would recommend!"
★ ★ ★ ★ ★ (18th September 2017)
Steve King – Excellent results!…
"I've been using Total SEO & Marketing Ltd for around a year. The results I have seen have been excellent and there has been consistent progress. I would recommend them highly."
★ ★ ★ ★ ★ (18th September 2017)
Michael Bogoyavlenskiy – Really good progress…
"I have been using Total SEO only for about 3 months, but the company understands our needs and is making a really good progress with SEO as well as PPC management. Matt has been professional, proactive and helpful."
★ ★ ★ ★ ★ (7th September 2017)
Tony – AMAZING!!!…
"Well, it's quite clear. Words cannot express how much of an impact the Total SEO team have been for me and my company Streatham Carz. They have been so helpful and I am very grateful for all the hard work and time taken to help my business become successful. A special thanks goes to Emma Rostron (my account manager) and Hannah Jackson (my articles specialist). Amazing!!!
Tony"
★ ★ ★ ★ ★ (5th September 2017)
ASCA North East – Total SEO are strong & ethical…
"Total SEO are a strong & ethical Business
They fully achieved everything that I had requested from them
Worth everything invested
Shaun McCowie
ASCA North East"
★ ★ ★ ★ ★ (21st July 2017)
Geoff de la Cour-Baker – Total SEO – Our business would not be what it is without them.
"We have been using Total SEO & Marketing Ltd for a number of years and and we could not do without them. We have a number of web based aspects to our business and the service offered by Total SEO is second to none. Their honest and clear approach to what they can offer and what we have needed over the years as helped push our business forward and for very little expense. I would recommend Total SEO to anyone!
Palmstead Nurseries Ltd"
★ ★ ★ ★ ★ (30th May 2017)
Mason Todd – We have been working with Matt McDermott…
"We have been working with Matt McDermott at Total SEO for around 2 months now and cannot fault his work. Everything is very detailed and they really are there to help our company succeed! Brilliant work so far, looking forward to the next few months"
★ ★ ★ ★ ★ (25th May 2017)
Matthew Smith – Total SEO are the real deal!
"Professional results driven company, cannot recommend Total SEO highly enough, the team are doing an outstanding job. As a new company with relatively no marketing exposure on search engine sites, we are now up there with the big guns after a short period of time! Cheers guys keep up the good work. Team Primal."
★ ★ ★ ★ ★ (10th February 2017)
Antonio Jose Domingiez Gomez – Excellent service and results
"I will use them again and again, great communication, results and good articles"
★ ★ ★ ★ ★ (23rd December 2016)
Concrete Gutter Services – Excellent help and service
"Simon and the team are very efficient and always happy to help, would 100% recommend to try their services. Concrete Gutter Services."
★ ★ ★ ★ ★ (7th October 2016)
Miss Rosemary Cooper – Extremely professional, fast & efficient Company/service
"We first used Total-SEO to build a new website for our Sports Injury Clinic & Pilates Studio in Fleet, Hampshire. The service was outstanding! The website was built in no time at all, they really understood our needs, and exceeded our expectations. We then had our Guildford website re-built, and have increased our Client base through the number of 'hits'.
Total-SEO are professional, honest, hard working & extremely supportive.
I would highly recommend this company."
★ ★ ★ ★ ★ (2nd March 2016)
Alex Facta – SEO Specialists that know what they are doing
"Total SEO have made a real difference to our organic presence online. We purposefully switched from another provider as we were not happy with the results they were giving us and Total SEO have turned this around quite rapidly. Their copywriters also seem to have been able to glean a good understanding of our business without much input from us and produce good relevant articles about our business. Would happily recommend this business."
★ ★ ★ ★ ★ (30th September 2015)
Clive Betteridge – Page 1 in 4 months – VERY IMPRESSED
"I'm very happy with the service offered by Total-SEO. Firstly no contract period which really gave me peace of mind. Great communication and results very early on!!!
The main target keyword I asked Total-SEO to target is on page 1 which is amazing.
I have had so many issues with SEO companies in the past but I'm pleased I have finally found someone I can trust."
★ ★ ★ ★ ★ (16th June 2015)
Raspberry Ribbon Cakes – Get your site seen with Total SEO
"Having never used an SEO company before I was nervous to say the least but, having worked with TOTAL SEO since last October, I needn't have been. Working together with a campaign focused on moving my site up the rankings, it was great to finally get seen on Google! A friendly, pro-active and professional team who I would recommend."
---
Recent Feedback Received Online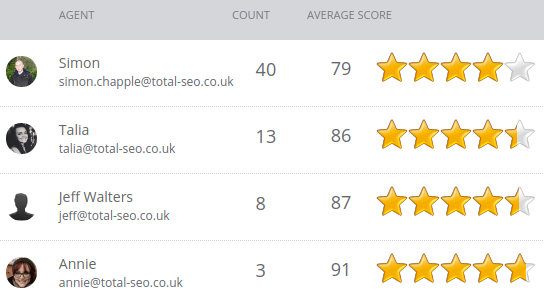 ---
Check out our video testimonials!

---
See The Results of Our Customer Feedback Questionnaire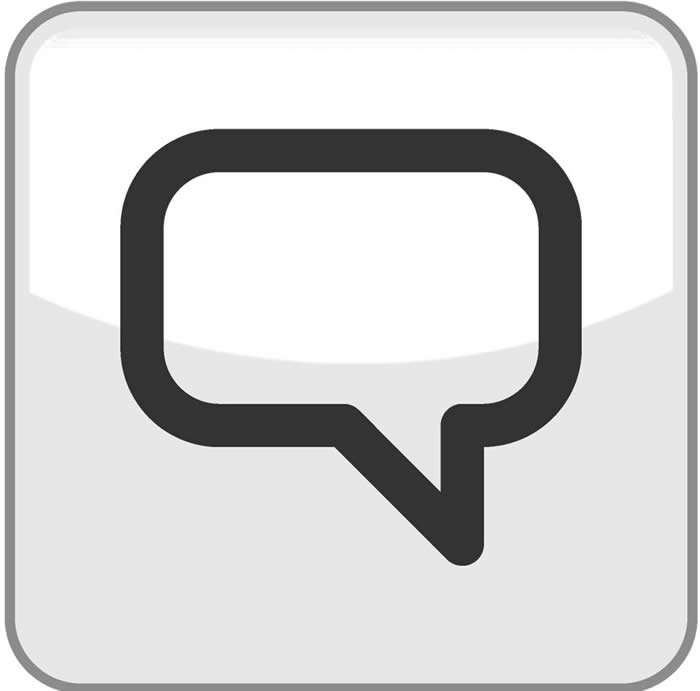 ---
Check out what people are saying on Facebook!

---
Check out what people are saying on Twitter!
---
<!- latest-post -->