October 3, 2017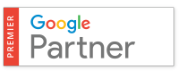 Aldershot based Total SEO and Marketing have been awarded Google's prestigious Premier Partner status – a level achieved by only the best and most successful companies based on Google's qualification criteria.
To achieve this status Total SEO have demonstrated their commitment to delivering the best possible service to their clients. Specifically this involves investment in the training of team members, managing a broad and growing portfolio of clients, delivering solid growth in revenues and meeting Google's requirements for providing information to be listed as a Partner.
Commenting on the achievement Simon Chapple, Total SEO's MD said "We are delighted to be recognised by Google and achieve their Premier Partner status. It is a level achieved by only a very small proportion of digital marketing companies.
"The ethos at Total SEO is based on delivering service excellence to our clients all of whom are aiming to be seen online by more of the people they want to engage with. To achieve this level and maintain it in a fast moving and competitive market requires an ongoing investment in the skills and capabilities in the business – especially the team. I would like to acknowledge and thank our team for their dedication and their personal commitment to their own and the company's development and progress.
"Since we started Total SEO in 2004 as a small business we have helped thousands of small and medium sized businesses achieve success and growth through our expertise in search engine optimisation, adwords, pay-per-click, content management and through understanding and supporting our clients' needs. The world of digital marketing keeps moving and it is a challenge for busy business owners to keep up to date with the latest requirements and techniques so they turn to us. Our growth record, our client feedback and now this latest achievement are all indicators that our investment in excellence is paying off."
If you would like to find out more about Total SEO or access one of the complimentary website reviews offered to business owners, visit www.total-seo.co.uk or contact Simon Chapple directly at simon.chapple@total-seo.co.uk.